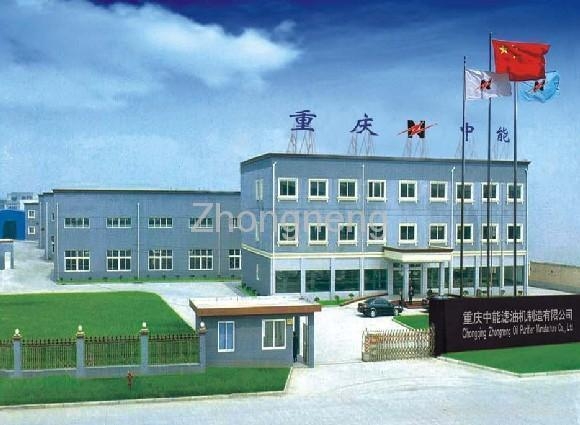 Chongqing Zhongneng Oil Purifier Manufacture Co., Ltd is a leading oil purifier manufacturer in China . We specialize in developing, producing, selling a series of oil purifier such as transformer oil filtration, Insulating oil treatment, turbine oil purifier, engine oil purifier, lubricating oil purification, oil filtration system and so on. We practice in this line for ten years, so we have a strong technology and gain rich experience. Our products have been exported to many countries, and get a high reputation. We give guarantee to all our customers of reliable quality products, reasonable price and best service.

We offer oil purifier machines as:
1. Insulating oil purifier/ Transformer oil purification
1.1. Series ZY: Zhongneng vacuum Insulating oil purifier
1.2. Series ZY-A: Zhongneng Automation Vacuum Insulating oil filtering
1.3. Series ZYB: Zhongneng vacuum Insulation oil regeneration machine
1.4. Series ZYD: Zhongneng Double-stage vacuum Transformer oil purification
1.5. Series ZYD-A: Zhongneng Automatic Double-stage vacuum Transformer oil purifying with PLC
1.6. Series ZYD-I: Zhongneng Double-stage vacuum Transformer oil regeneration and oil purification machine
1.7. Series ZYD-M: Zhongneng Mobile Type vacuum Transformer Oil treatment Plant mounted on Trailer
1.8. Series ZYD-E: Zhongneng Enclosed Type Transformer Oil Filtration unit enclosed in cabinet

2. Turbine oil purifier
2.1. Series TY: Zhongneng vacuum turbine oil purifier

3.Lubricating oil purifier
3.1. Series TYA: Zhongneng vacuum lubricating oil purifier
3.2. Series TYA: Zhongneng vacuum Hydraulic oil filtering
3.3. Series TYA-I Phosphate ester fire-resistant oil purifier

4. Zhongneng Series LYE Engine oil recycling system

5. Zhongneng diesel oil filtering, gasoline oil purifier and fuel oil treatment plant

6. PL Plate pressure oil purifier

7. JL Portable oil purifying

8. Fully Automatic Insulating Oil Dielectric Strength Tester (BDV Tester)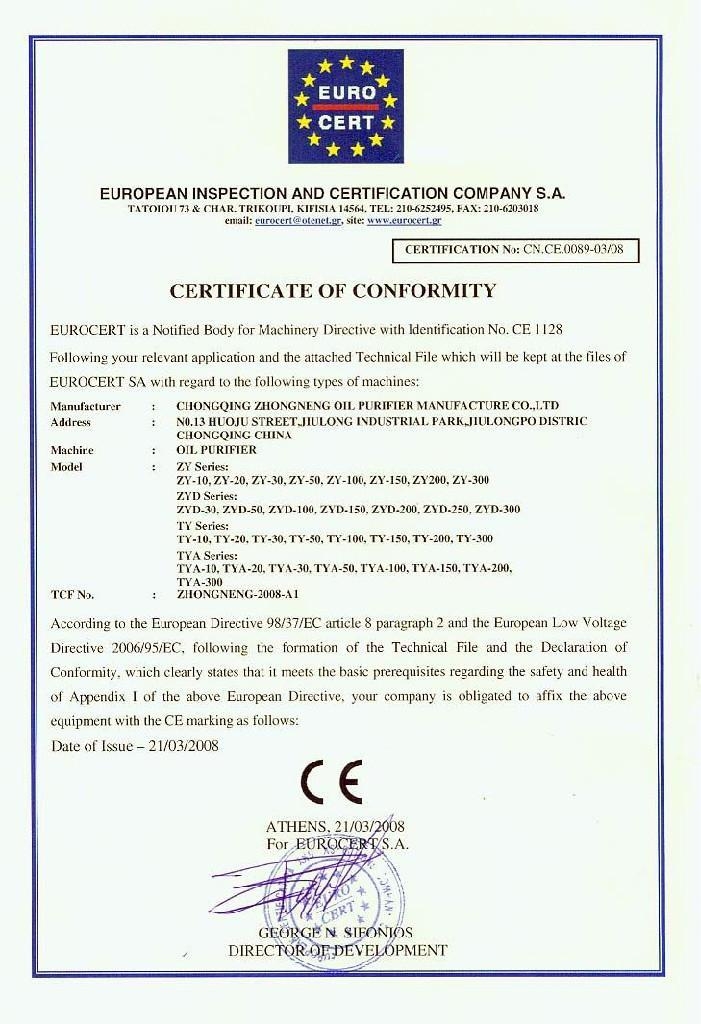 Zhongneng's world-class technology:
1. Adopt Duplex 3D stereo-evaporation and
2. Adopt Instinctively removing impurities system filtering through the double FH trapezoidal network and absorbing by high polymer without mechanical power
3. Adopt Argon fiber infrared heating system that can make the oil contain zero sum of ethyne after the treatment.
4. Adopt Advanced infrared oil level control system and pressure protection device make operation simple and safe.
5. The equipment is installed with auto alarming system, it will give out alarm and stop the whole machine when electrical motor is overloaded, vacuum pump and oil pump overloaded, heater overloaded and pressure abnormal.
6. Adopt a trinity of interlocked preventive device.
7. Adopt Germany's 3UG3 Phase Relay. ­­